Our Canadian Pacific coast is a beautiful and diverse eco-system teeming with life. From our iconic schools of spawning sockeye salmon to the majestic killer whales, the coastline of BC is a treasure that belongs to all of us. This special place could be forever scarred with just one mistake that could lead to an oil spill.

Kinder Morgan's New Trans Mountain Pipeline Proposal

For decades the Trans Mountain pipeline from Alberta has provided most of the oil we use in BC. But in 2005, Kinder Morgan bought the pipeline with the goal of transforming our inlet into a major tar sands shipping port.

Very quietly in 2007, around the same time the pipeline was accidentally ruptured and leaked into the inlet, a risk assessment panel made up of industry insiders began the process of allowing bigger tankers in our waters. In 2008, the TMX-1 project increased the pipeline's capacity by 50,000 barrels a day to increase exports. Despite the fact that our Pacific coast is now increasingly threatened by a major oil spill, there was no public process or debate in the House of Commons or anywhere else.

As we were all still reeling from the BP disaster in the Gulf of Mexico, little did we know that every week one or two tankers were passing through the Burrard Inlet carrying more than three times more crude oil than was spilled by the Exxon Valdez. As if that weren't bad enough, now Kinder Morgan wants to increase the capacity of the pipeline up to 890,000 barrels a day—which means more than 400 giant oil tankers a year moving through our inlet.
For more information on the proposal and on Kinder Morgan's safety track record, see our FAQ page.
ArcGIS Online Map of Kinder Morgan Trans Mountain Pipeline Project
The existing pipeline is shown in yellow, and the proposed preferred new pipeline corridor route is shown in red. The exact final route has not been completely decided and is based on maps submitted in Kinder Morgan's application to the National Energy Board in December 2013. Also shown is BC parks that will be potentially impacted by the new Kinder Morgan pipeline according to BC government documents in dark green, and other parks that may be potentially impacted by new Kinder Morgan pipeline in light green. You can toggle the legend, zoom in or change the basemap imagery with the buttons across the top. You can pan around map by clicking on map and dragging with your mouse. Click 'View Larger Map' below map to open the map in ArcGIS Online map viewer.
YELLOW = existing Trans Mountain pipeline route
RED = proposed new Trans Mountain pipeline corridor route
DARK GREEN = BC Parks potentially impacted by new pipeline according to BC government document
LIGHT GREEN = Other BC Parks & National Parks that may be potentially impacted by new pipeline
The Wilderness Committee has also created a series of PDF maps of the proposed and existing Kinder Morgan Trans Mountain pipeline and associated oil tanker route. Click on the map image below to see the rest of our pipeline route maps.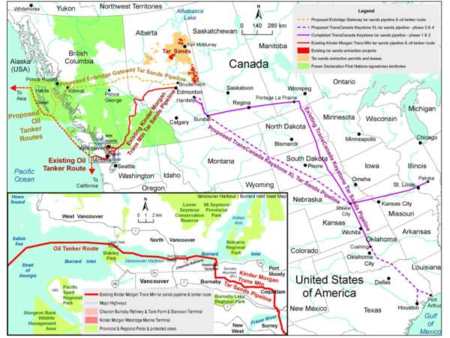 The Enbridge Northern Gateway Pipeline
The proposed Enbridge Northern Gateway pipeline poses a massive new threat to pristine areas across central and northern BC, including the Great Bear Rainforest. The pipeline would bring over 500,000 barrels of crude oil from the tar sands in Alberta to super tankers in Kitimat, BC.
The pipeline would cross more than 800 streams and rivers, endangering salmon spawning habitat in the upper Fraser, Skeena, and Kitimat watersheds. The proposal would also bring over 225 giant oil tankers to the north coast of BC, where an oil spill could cause irreversible damage to the pristine Great Bear Rainforest.
Like Kinder Morgan, Enbridge has a history of oil spills and incidents, including the 2010 Kalamazoo River spill that introduced the world to the terrible challenges of cleaning up tar sands bitumen. The company's poor response prompted a scathing review from the US Environmental Protection Agency (EPA), who ordered the company to come back and finish the clean-up job after they'd left the mess to local residents.
Overall, the potential economic benefit to British Columbians is not worth the risk to our resources, especially given that the majority of jobs provided by the project are temporary. If an oil spill were to occur, it would jeopardize thousands of jobs in other, more sustainable industries such as fishing and tourism.
Over 130 First Nations groups have signed the "Save the Fraser Declaration" against the transport of tar sands oil across their lands and waters, and a number of BC municipalities have passed formal resolutions opposing the Northern Gateway project. Polling consistently shows that between 60 and 80 per cent of British Columbians oppose the project.
Canada's good name is being spoiled by expanding the export of dirty tar sands oil, while we all struggle to face the challenges of global warming. The world needs us to transition away from fossil fuels, yet these oil exports are part of a broader strategy to ramp up oil extraction from the tar sands. Instead of playing a leadership role by doing something to halt runaway climate change, the Canadian government is giving big oil companies the green light to put their foot on the accelerator. Now is the time for Canada to live up to its responsibility and to be a good global citizen. We know that our country must do better.

Together we can turn this ship around and get on course. Protecting the coast means not only keeping our shorelines safe from an oil spill, but maintaining a global climate that's safe for everyone.
---

Got Questions? Check out our FAQ's page.
Click here to view updated maps of the Kinder Morgan pipeline route.
To learn more about the risks associated with transporting diluted bitumen from the tar sands (dilbit), visit our info page about the 2010 Kalamazoo River oil spill.

Photo: Cleanup crews respond to an oil spill in the Vancouver harbour, 1973. Photo by John Denniston.