Did you know that British Columbia is one of the biggest players in the North American coal industry?
Coal is the dirtiest, most carbon-intensive fossil fuel. Burning coal contributes significantly to poor air quality, and can have serious health impacts in communities next to coal mines or coal fired power plants.
In the name of climate change, regulations in BC do not allow coal-fired power generation. BUT we are home to one of the biggest coal ports in North America, and every year we dig up more and more coal. In fact, there are proposals on the table that would double the number of coal mines operating in BC AND ship out more American coal from our ports.
So why is BC, a supposed leader in the fight against climate change, leaving its door wide open for the dirty coal industry?
Currently there are over 12 new coal mines proposed in BC. On Vancouver Island, there are plans for three new mines in the Comox Valley, and a coal port in Port Alberni. Local opposition has highlighted the impact this proposal would have on drinking water, and on the thriving Fanny Bay oyster industry. In the Peace River region of northeastern BC, new coal mines threaten critical habitat for the endangered caribou herds that were once plentiful in the region. The mighty salmon rivers of the Sacred Headwaters are also at risk from a giant open-pit mine proposal. And additional proposals in the Kootenays will intensify the existing mining activity in the Elk Valley, and move further into intact wilderness.
Most of the coal mined in BC is metallurgical coal, used for making steel. But a growing percentage of the coal we export is actually thermal coal strip mined in the United States' Powder River Basin, which is located in southeast Montana and northeast Wyoming.
This basin is one of the largest reserves of coal in the world, and all of the coal is destined for markets in Asia. Growing opposition in the US has companies looking north to Canada for shipment routes.
Before 2010, less than 5 million tons of US coal has been exported through BC ports annually, however in recent years US-originated coal shipments increased dramatically.
More coal exports need additional port capacity, so companies and port authorities are looking at major port expansions. The proposed expansions of coal shipping facilities in Metro Vancouver have become a focal point for opposition based on the devastating climate change impacts, as well as local public health concerns. The Westshore Terminal at Roberts Bank in Delta, BC is currently the largest coal export facility on the Pacific Coast. With recent technological upgrades it has increased its coal export capacity from 29 mega tonnes to 33 mega tonnes annually.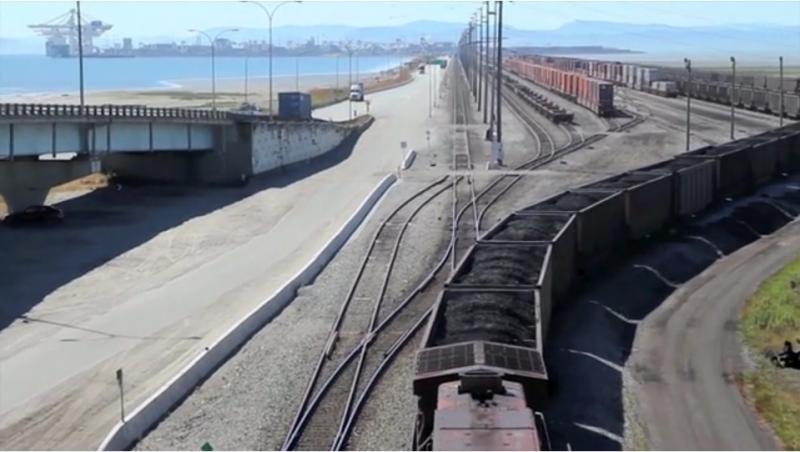 To top that off, authorities recently approved a coal shipping expansion at North Vancouver's Neptune Terminal, and another proposal is being considered to facilitate exports of U.S. thermal coal from the Fraser Surrey Docks. If the Fraser Surrey Docks proposal were to be approved, the combined capacity at facilities within Port Metro Vancouver would make the region the biggest exporter of coal in all of North America.
In addition to impacts at the community level, expanding BC's capacity as a gateway for coal exports would undermine our region's climate leadership. Join the Wilderness Committee in our fight to stop new coal mines, and halt coal exports in their tracks.
Raven Coal Mine
Raven is the first of three coal mines that Compliance Energy Corporation wants to build in the Comox Valley Region on the Island. The proposed project is to be located in the Comox Valley on the east side of Vancouver Island, and would extract 44 million tonnes of coal over a 16-year period.
Thousands of people—from local residents to supporters from off-island—have stood up in opposition against the project and its potential environmental and social impacts. So far, Compliance has ignored these concerns.
If Raven Coal is allowed to go ahead, the region will be opened up to large-scale mining that the province hasn't seen in decades.
Learn more about Raven Coal...


Deltaport Expansion
In addition to recent upgrades to the Westshore coal terminal at Roberts Bank, the adjacent Deltaport terminal is moving ahead with plans to expand container shipping.
Deltaport is currently increasing shipping capacity by 50 per cent by adding a third berth and making the port the largest container terminal on Canada's west coast. The Vancouver Port Authority is now also pushing ahead with plans to add a second terminal, which combined will result in more than a three-fold increase in capacity.
The Terminal 2 project could industrialize over 1000 hectares of agricultural land and destroy a key bird habitat that's part of the Pacific Flyway for migratory birds. Additional port capacity would also be created at Neptune Terminals in West Vancouver, Pacific Coast Terminals in Port Moody and Ridley Terminals in Prince Rupert.
Learn more about the Deltaport Expansion...
Learn more about proposed mines in BC...
Learn about existing coal mines in British Columbia...
Learn about some of the proposed coal mines across Canada...
Google Map of Proposed Coal Mines & Coal Export Terminals in BC
Four of the most contentious coal mine proposals are shown as balloon icons with dots inside.
Other proposed coal mines are shown as red balloon icons without dots, light blue balloon icons show major coal exploration projects, while purple balloon icons show existing coal mines. Blue ship icons show where proposed and existing coal export terminals are located. Purple shaded areas show where coal fields exist, while the green shaded area depicts the Flathead River watershed, which is coal rich and proposed for protection. The orange line indicates where the proposed Highway 37 powerline is located, which would spur further coal mining and other mining in the BC northwest. Feel free to click on individual icons on map for more info and also click on "View Proposed Coal Mines & Export Terminals in BC in a larger map" link below map to see the full version of the map with legend.

View Proposed Coal Mines & Export Terminals in BC in a larger map